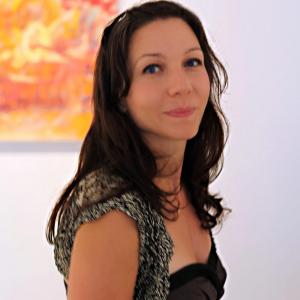 Ester Pugliese
Artist member since 2018
Pro
Toronto , Ontario
Ester Pugliese's multilayered mixed media paintings utilize a coral reef aesthetic to reimagine Vanitas still life painting with a contemporary sense of immersive space while exploring the irreconcilable nature of our culture's materialistic urges and our desire to protect the natural world.
Ester Pugliese is a Toronto-based artist. A graduate of York University with a Bachelor of Fine Arts (Specialized Honours) in painting and drawing, Pugliese is the recipient of numerous awards and scholarships including the Canadian Italian Business & Professional Association Scholarship from the BCI Bank of Italy, and the Humber College Board of Governors Achievement Award with her post-graduate certificate in Arts Administration/Cultural Management. She studied in the BA Fine Art Program at Leeds University (UK), exhibiting at the renowned Yorkshire Sculpture Park. Her works have been acquired by the Donovan Collection, Capital One, Microsoft and collectors in North America and Europe. Her exhibitions have been featured in the Globe & Mail, Canadian Art Gallery Hop, Artoronto.ca, ArtSync TV and in Now Magazine's and Canadian Art Magazine's Must-See Lists. She has exhibited with Loop Gallery since 2009 and is represented by Partial Gallery online.
---
What do you listen to when you work?
All kinds of music, but the ones I always come back to are Pedro the Lion, PJ Harvey, Sebadoh and Helium. Oh, and Art for Your Ear podcasts by the Jealous Curator. Loads of inspiration there!
When did you start making art, and why?
When I was eight I was so proud of a realistic labrador retriever I'd drawn. Around that time, I also got to watch my mom transform from a hobby artist into an accomplished painter. That, and majoring in Visual Arts at an arts high school. Knowing that art was my strength in those formative years shaped the rest of my life/career decisions.
Favourite medium
I began using charcoal on PVA on canvas at Leeds University in England. This felt like *my* medium. Since then I have scoured the store shelves for a similar substrate, with no luck. That process led me to working with acrylic and soft pastel in endless layers of washes and glazes.
What artists do you admire right now?
Gary Evans, Kathryn Bemrose, Hurvin Anderson. Also love the inimitable Cy Twombly, Joan Mitchell. Most recently I've discovered Rachel Ruysch and Richard Kuiper.
Coffees per day and from where
One - a decaf soy latte from The Hub Coffee House on Dovercourt.
What do you mean, "try"?
Try-before-you-buy with a 3 month rental. 100% of your rental payments go towards the purchase (interest free). Message the artist directly, and start the conversation.
---
Art made (truly) affordable
We make it easy for you to try art with smart payment plans and try-before-you-buy models.
See How It Works
---
You're covered.
Artwork protection is included on all art rentals up to $10K. Our Customer Care team is always here to help.
Contact Us
---
Unlock Trade Access
For industries including interior design, film/TV production, & real estate staging: rent original pieces that fit with your project vision, budget and timeline.
Apply for Trade Access
---
1% from every transaction goes towards a Canadian arts nonprofit.